Services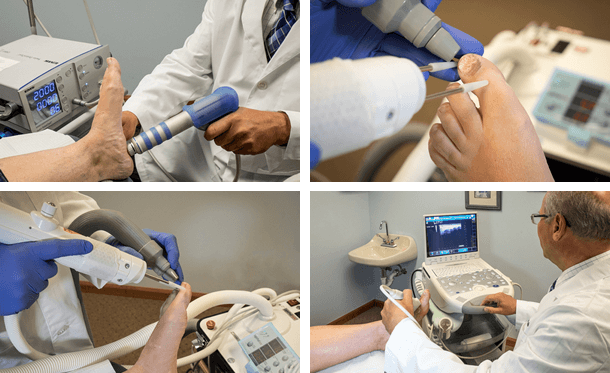 Podiatry Services & Foot Surgery
For Amherst, Tonawanda & Lewiston, NY
Lockport Foot Care, PLLC provides podiatry services and foot surgery for Amherst, Tonawanda, Lewiston, NY & the surrounding area. Please take a look at our services below and don't hesitate to call us if you have any questions.
Our practice offers the following services to our patients:
Comprehensive care of foot and ankle disorders
Athletic injuries
Reconstructive foot surgery
Work related injuries
Biomechanical analysis with functional orthotic devices
Diabetic and Routine Foot Care (Including The Medicare Diabetic Shoe Program)
Diagnostic ultrasound and x-ray evaluations for quick accurate diagnosis
Laser therapy for fungus toenails,
Swift Microwave Therapy for resistant plantar warts
Radial Shockwave therapy for resistant heel pain
Medical and surgical treatment of:
Achilles tendinitis
Ankle sprains
Arch fatigue/ flat feet / high arch feet
Arthritis
Athletes foot
Charcot neuroarthropathy
Corns and calluses
Dermatitis
Diabetic Foot Care
Drop foot
Dry cracked skin (fissured heels)
Excessive perspiration with foot odor
Fractures (broken bones) of feet
Ganglions
Gout
Hallux Rigidus
Hammertoes
Heel Pain (plantarfasciitis)
Heel Spurs
Infections and Ulcerations
Ingrown Toenails and infections
Neuromas
Peripheral neuropathy
Posterior tibial tendon dysfunction
Reconstructive Foot Surgery
Second surgical opinions
Shin splints
Soft Tissue Masses and Tumors
Sports Injuries
Stress fractures
Tendonitis
Thick or painful scars
Ulcers or sores on feet
Warts
Medical disclaimer: the information contained herein is intended for informational use only and is not intended to act as a replacement or substitute for professional evaluation or advice. You are urged to seek the advice of a doctor as it relates to your medical concern to receive an accurate assessment and treatment recommendation. As a visitor and recipient of this information, you are not establishing a doctor/patient relationship with Dr. Zirna. I invite you to call to receive a comprehensive examination and evaluation of your foot problem.