Blog
Tuesday, 24 May 2022 00:00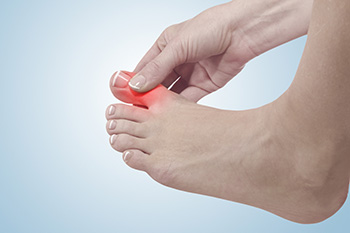 Gout is an inflammatory arthritis that develops from high levels of serum urate in the body which can form into crystals in and around a joint causing inflammation. Urate comes from purines found in the body's tissues and many foods. When purines break down, they become urate. Not everyone who has high serum urate levels will develop gout, but if one does, it can flare up with intense pain, swelling, and stiffness. Gout flares can occur in any joint but often start in the big toe. With early intervention through treatment and lifestyle changes, gout is one of the most controllable forms of arthritis. Men, middle-aged and older people, and those with a genetic predisposition to gout are more at risk. This condition can be triggered by foods rich in purines, alcohol, certain medications, injury, or illness. It can lead to other complications like obesity, diabetes, and hypertension. Seeing a podiatrist for gout is the best route to proper diagnosis and treatment to help keep this affliction under control.
Gout is a painful condition that can be treated. If you are seeking treatment, contact Dr. Harry I. Zirna from Lockport Foot Care, PLLC. Dr. Zirna will treat your foot and ankle needs.
What Is Gout?
Gout is a form of arthritis that is characterized by sudden, severe attacks of pain, redness, and tenderness in the joints. The condition usually affects the joint at the base of the big toe. A gout attack can occur at any random time, such as the middle of the night while you are asleep.
Symptoms
Intense Joint Pain - Usually around the large joint of your big toe, and it most severe within the first four to twelve hours
Lingering Discomfort - Joint discomfort may last from a few days to a few weeks
Inflammation and Redness -Affected joints may become swollen, tender, warm and red
Limited Range of Motion - May experience a decrease in joint mobility
Risk Factors
Genetics - If family members have gout, you're more likely to have it
Medications - Diuretic medications can raise uric acid levels
Gender/Age - Gout is more common in men until the age of 60. It is believed that estrogen protects women until that point
Diet - Eating red meat and shellfish increases your risk
Alcohol - Having more than two alcoholic drinks per day increases your risk
Obesity - Obese people are at a higher risk for gout
Prior to visiting your podiatrist to receive treatment for gout, there are a few things you should do beforehand. If you have gout you should write down your symptoms--including when they started and how often you experience them, important medical information you may have, and any questions you may have. Writing down these three things will help your podiatrist in assessing your specific situation so that he or she may provide the best route of treatment for you.
If you have any questions, please feel free to contact our offices located in Lockport and Medina, NY . We offer the newest diagnostic and treatment technologies for all your foot care needs.
Read more about Gout
Tuesday, 17 May 2022 00:00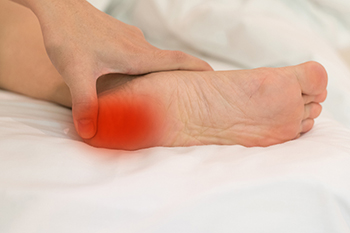 Children often complain of heel pain, and it is usually not serious.  However, it is important to understand what is going on as such pain can arise for various reasons. If a child suffers from pain or tenderness in the back of the foot or ankle, limps, or walks on their toes, they might have Achilles tendonitis or Sever's disease. Achilles tendonitis is an inflamed Achilles tendon. Sever's disease, or calcaneal apophysitis, affects kids from five to eleven years of age and involves the Achilles tendon pulling on a growing heel bone. Both conditions can occur from overuse or a sudden increase in activity.  Children performing repetitive movement as in sports like soccer, basketball, and track that involve running or jumping are more prone to heel pain. Rest, ice, compression, elevation, stretching, over-the-counter pain medication, and perhaps cushioned heel lifts usually provide relief, but ignoring symptoms can lead to worsening of the injury and sometimes chronic pain. Other less common reasons for heel pain in children are plantar fasciitis, fractures of the heel or foot, infections, tumors, or congenital problems. If one suspects a child has sustained a fracture or if pain persists beyond a couple of weeks, a podiatrist should be seen to examine your child's feet, determine what the cause of pain is, and suggest an appropriate treatment plan.
Many people suffer from bouts of heel pain. For more information, contact Dr. Harry I. Zirna of Lockport Foot Care, PLLC. Dr. Zirna can provide the care you need to keep you pain-free and on your feet.
Causes of Heel Pain
Heel pain is often associated with plantar fasciitis. The plantar fascia is a band of tissues that extends along the bottom of the foot. A rip or tear in this ligament can cause inflammation of the tissue.
Achilles tendonitis is another cause of heel pain. Inflammation of the Achilles tendon will cause pain from fractures and muscle tearing. Lack of flexibility is also another symptom.
Heel spurs are another cause of pain. When the tissues of the plantar fascia undergo a great deal of stress, it can lead to ligament separation from the heel bone, causing heel spurs.
Why Might Heel Pain Occur?
Wearing ill-fitting shoes                  
Wearing non-supportive shoes
Weight change           
Excessive running
Treatments
Heel pain should be treated as soon as possible for immediate results. Keeping your feet in a stress-free environment will help. If you suffer from Achilles tendonitis or plantar fasciitis, applying ice will reduce the swelling. Stretching before an exercise like running will help the muscles. Using all these tips will help make heel pain a condition of the past.
If you have any questions please contact our offices located in Lockport and Medina, NY . We offer the newest diagnostic and treatment technologies for all your foot and ankle needs.
Read more about Heel Pain
More...